Alan Turing is credited with crwating what we today know as the programmable computer. He had the idea before WWII, but work in earnest started in order to crack the "unbreakable" German Enigma machine's encryption. They were used on U-boats which were destroying allied ships en-masse. Cracking their code would give locations to avoid and other vital information.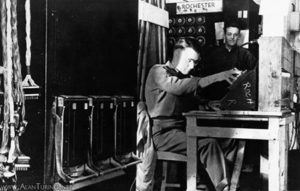 He worked in secret and never got credit for his work in his lifetime because it was still a state secret, though it saved thousands of lives. Many believe it to have been a big part of the reason the Germans surrendered.
He was discovered to be gay, a crime then, and penalized with chemical castration. He took his own life. He was posthumously pardoned in 2013 by the Queen. He is one of my biggest heroes and today is his birthday. Read a book on him or at least watch The Imitation Game. It's pretty close to factual and you wouldn't be reading this message if it weren't for Turing.